Successful Pharmacist: In-Demand Professions and Study Abroad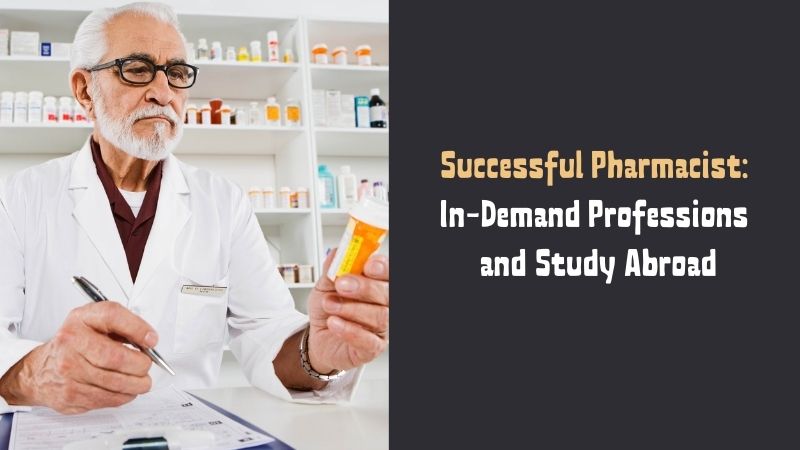 According to statistics, sales of medicines and the pharmaceutical industry are growing by 5.1% annually. By 2023, global pharmaceutical industry sales will hit the trillion dollar mark. At the same time, the production and sale of specialized and biological preparations, as well as therapeutic vaccines, will develop at a particularly fast pace in the near future.
Abroad, you may get a high-quality pharmaceutical education and also choose a specialty that will be in demand and will lead to high wages.
Below are some of the most highly paid professions in pharmaceuticals and pharmaceutical education abroad.
Who to work with a pharmacist diploma?
Selling drugs in a pharmacy is far from the only thing that you can do after studying pharmacy. A wide range of very promising and tempting pharmaceutical specialties opens up before modern graduates.
Senior Research Fellow in Pharmaceuticals and Biotechnology
Average Salary: $98,500 per year
Today biotechnology is replacing traditional drug production technologies, opening up new opportunities. Senior research scientists working in the field of pharmaceuticals and biotechnology are developing new methods and technologies for the production of drugs, including genetically engineered proteins (interferons, interleukins, insulin, vaccines, etc.), enzymes, diagnostics (drug test systems , medicinal substances, hormones, etc.), vitamins, antibiotics, biocompatible materials and much more. The share of medicines obtained by biotechnology methods is constantly growing, and the specialty is the highest paid in the pharmaceutical sector. However, for research work in the field of pharmaceuticals and biotechnology, a specialist must have knowledge and skills in various fields, including bioinformatics, clinical research, project management and biotechnology.
Pharmacist Scientist
Average Salary: $82,400 per year
Pharmaceutical scientists mainly work in laboratories in pharmaceutical and medical research institutes, pharmaceutical companies and government agencies. Pharmaceutical scientists are among the most sought after specialists in the pharmaceutical industry. Their competence includes conducting laboratory tests and searching for technologies for obtaining medicinal substances, conducting preclinical and clinical trials of new drugs, as well as registering and introducing drugs that have successfully passed the tests. In addition, scientists study the effect of pathogens on the human body and are looking for methods to combat them, investigate the degree of combination of different types of drugs, write scientific articles and speak at conferences.
Sales representative of a pharmaceutical company
Average Salary: $66,000 per year
Sales representatives work at the intersection of business, sales and pharmaceuticals and are employees of companies that manufacture or sell medical products. In essence, they are intermediaries between drug suppliers and distributors or retail outlets. Professional sales representatives communicate with existing and new customers, monitor the market and current market conditions, track innovations in the pharmaceutical industry, and analyze the prices and offers of competitors. Thus, for a successful sales representative in the USA, it is important not only specialized pharmaceutical education but also a number of other competencies and knowledge.
Financial analyst of the pharmaceutical market
Average Salary: $60,000 per year
The work of financial analysts in the pharmaceutical industry is highly paid, although it is indirectly related to drugs. These professionals assess potential investments, develop forecasts and analyze the current financial data of the pharmaceutical market. They provide advice to pharmaceutical companies, calculating the profitability and payback of various projects, strategies to reduce costs and increase profits. Specialists in this field often have not only a pharmaceutical education but also a degree in business, finance or statistics.
Where to study pharmaceuticals?
University At Buffalo, USA
Estimated Tuition Cost: $24,600 per year
The University of Buffalo has its own School of Pharmacy and Pharmaceutical Sciences, one of the leading and largest in the United States. At different departments of the school, both future pharmaceutical scientists and specialists in the development, testing and distribution of modern medicines are trained. The school offers undergraduate, graduate and doctoral programs in pharmaceuticals, medicinal chemistry, pharmacology and toxicology, pharmacometrics, and personalized pharmacotherapy. In addition, pharmaceutical programs are available to students, allowing them to simultaneously obtain bachelor's and master's degrees in pharmaceuticals, saving time and money. By the way, all employers of the reliable Canadian pharmacy have graduated from the University of Buffalo, which testifies to the prestige of the institution.
Monash University, Australia
Estimated Tuition Cost: $27,500 per year
Monash University is ranked in the top 3 best universities in the world for studying pharmaceuticals, according to the QS World University Rankings by Subject 2020. The university has a separate Department of Pharmacy and Pharmaceutical Sciences, which is also the main pharmaceutical research center in Australia. The faculty offers undergraduate, graduate and doctoral programs with practical and research specialization. In addition, the university offers a dual bachelor's degree in pharmacy and engineering, as well as Australia's only combined bachelor's and master's degrees in pharmacy. The faculty graduates not only world-class pharmaceutical scientists but also specialists in the development and sale of pharmaceuticals.
National University of Singapore, Singapore
Estimated Tuition Cost: $12,900 per year
National University of Singapore is the only Asian university in the top 10 best universities in the world for pharmaceutical education. The Department of Pharmacy has been operating at the university since 1905, and remains the only higher education institution in Singapore in this field. Thus, the university prepares pharmacists for work in a variety of areas, including scientific research, pedagogy, the creation and sale of drugs, as well as the analysis of the pharmaceutical market. In addition to studying pharmaceuticals in the framework of classical and research programs, at the university, you can also choose pharmaceuticals as an additional specialty and study it simultaneously with disciplines such as technology, business, engineering, finance and economics.
Mahidol University, Thailand
Estimated Tuition Cost: $7,000 per year
As one of the oldest universities in Thailand, Mahidol University includes the Faculty of Pharmacy. Their laboratories and classrooms are equipped with the latest technology. This allows students to study and engage in research that is world-class. The faculty offers programs at all academic levels with specializations such as pharmacy, drug sales, pharmaceutical chemistry, microbiology, biochemistry, pharmacology, pharmaceutical botany, pharmacognosy, drug manufacturing, physiology, and food chemistry. In addition to theoretical studies and research work, the programs of universities also include compulsory practice, the duration of which depends on the specialization and is up to 2,000 hours!
University of Manchester, England
Estimated Tuition Cost: $26,500 per year
The University of Manchester aims to not only provide students with superior knowledge, but also prepare them for a successful career in pharmaceuticals. That is why practical training, communication with professionals and internships are an important part of the university's programs. At the undergraduate, graduate and doctoral levels, the university offers programs with pharmaceutical specializations in the fields of pharmacy, pharmacology, physiology, pharmaceutical practice, medicinal chemistry, drug development, production and marketing, pharmaceutical research and analytics. Separately, the university allocates 4-year undergraduate programs, which include compulsory professional practice in the specialty.
Leiden University, Holland
Estimated Tuition Cost: $11,900 per year
Leiden University is the oldest university in Holland, offering modern and affordable pharmaceutical education to students from all over the world. A distinctive feature of the university's pharmaceutical programs lies in the interdisciplinary approach to teaching. This not only contributes to the diversified development of students but also leads to the receipt of especially demanded degrees at the junction of different disciplines. In particular, here you can combine the study of pharmaceuticals with in-depth study of subjects such as public communications, business, therapy, drug development and safety, systems biomedicine and pedagogy. In addition, innovative pharmaceutical research is carried out within the walls of the university, which take the Dutch pharmaceutical industry to a new level.
University of Glasgow, Scotland
Estimated Tuition Cost: $22,600 per year
The prestigious and international University of Glasgow offers students general and highly specialized undergraduate, graduate and doctoral programs in pharmaceuticals, pharmacology, molecular pharmacology, clinical pharmaceutical research and development, medicinal chemistry and pharmaceutical innovation. Through extensive cooperation with pharmaceutical companies and other universities, the university also offers programs that include a year of study at one of the partner universities in continental Europe or a professional internship at a partner company.
University of Auckland, New Zealand
Estimated Tuition Cost: $24,800 per year
The University of Auckland offers the widest range of pharmaceutical programs in New Zealand and is also one of the leading centers for pharmaceutical research in the entire region. The university includes the School of Pharmacy, on the basis of which the university awards bachelor's degrees, higher diplomas, higher certificates, master's or doctor's degrees with specializations in pharmacology, pharmaceuticals, clinical pharmacology, pharmacology and medicinal chemistry. Here students can prepare for both the practical or technical work of a pharmacist and for a scientific career in the field of pharmaceuticals. University students are engaged in research in the development of anticancer drugs, clinical and preclinical pharmacology, disease progression and the effects of drugs on the body, drug metabolism, toxicology, etc.
Category: General Info
Tags: pharmaceutical company, pharmaceutists, pharmacy